eqTAG Field Service and Asset Management
Easy to use – Made for mobile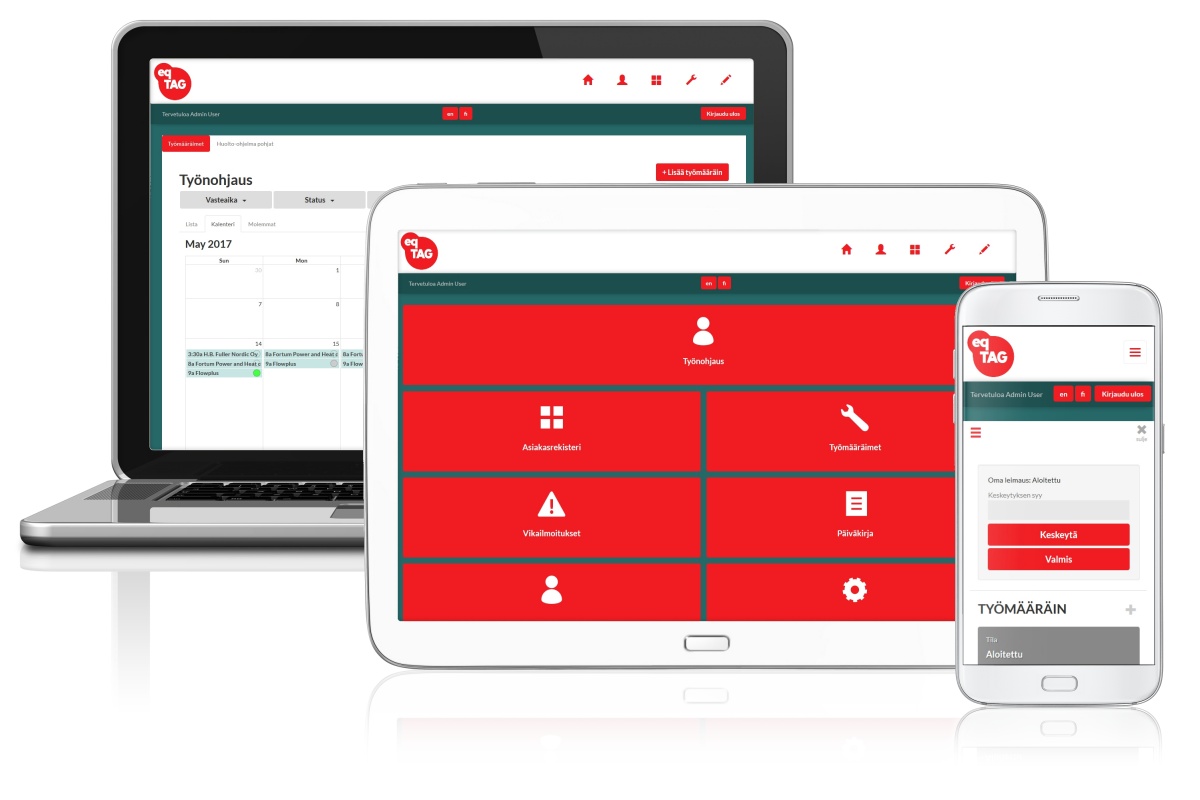 One Software to every Service and Asset management need
Helping you to get things done faster and more efficient
eqTAG Field Service Management software is very easy to use web-based solution for scheduling a site visit, reporting the work order and installed base management.
Get started now and find out how easy field service management and reporting can be with state of the art software.
Immediate invoicing to improve cash flow
eqTAG is available always and everywhere. With eqTAG the service engineers can fill out a report as they do the work. Immediate invoicing after the job is done accelerates cash flow.
INSTANT BENEFITS FOR EVERYONE
Available in: English, French, German, Danish, Swedish and Finnish
ECONOMIC BENEFITS
Immediate invoicing to accelerate cash flow. Stop funding your customers
Invoice accuracy: no more forgotten materials or expenses means more money to you
Affordable! No startup investment, invoicing based on number of users
BENEFITS FOR WORK MANAGEMENT
Schedule, prioritize and assign jobs quickly and easily
Efficient work management saves your time for real work
Assign work to the right resource: right skills, right location, right parts
BENEFITS FOR FIELD REPORTING
Easy-to-use. eqTAG guides the service engineer intuitively in filling out a report.
Needed information and documents always available in the field
Allows more jobs to be completed quicker, each and every day
BENEFITS FOR ASSET MANAGEMENT
Tracebility for the equipment life cycle history.
Installed base information is always up-to-date and available
Instant access, 24/7, to all of your business critical information
eqTAG Maintenance Manager features
Try eqTAG with your team for free!
Get started with the full eqTAG Field Service Management solution and see how much value it brings to the table for you and your team.
eqTAG is free to use for teams of up to three persons.
SUPPORTED BROWSERS
Chrome
Safari
Mozilla Firefox
SUPPORTED OPERATING SYSTEMS
SUPPORTED DEVICES
Desktop
Laptop
Mobile devices
eqTAG empowers all industries and teams
Explore customer success stories

TECA
Jukka Loukkola,
Service Manager
read story…

ONELIFT
Christian Rautiainen,
CEO
read story…

GPP Perimeter Protection Group
Lars Krull,
CFO
Antti Aalto,
Service Manager