Designed for hands on use
Choose a simple, field ready
Service management system.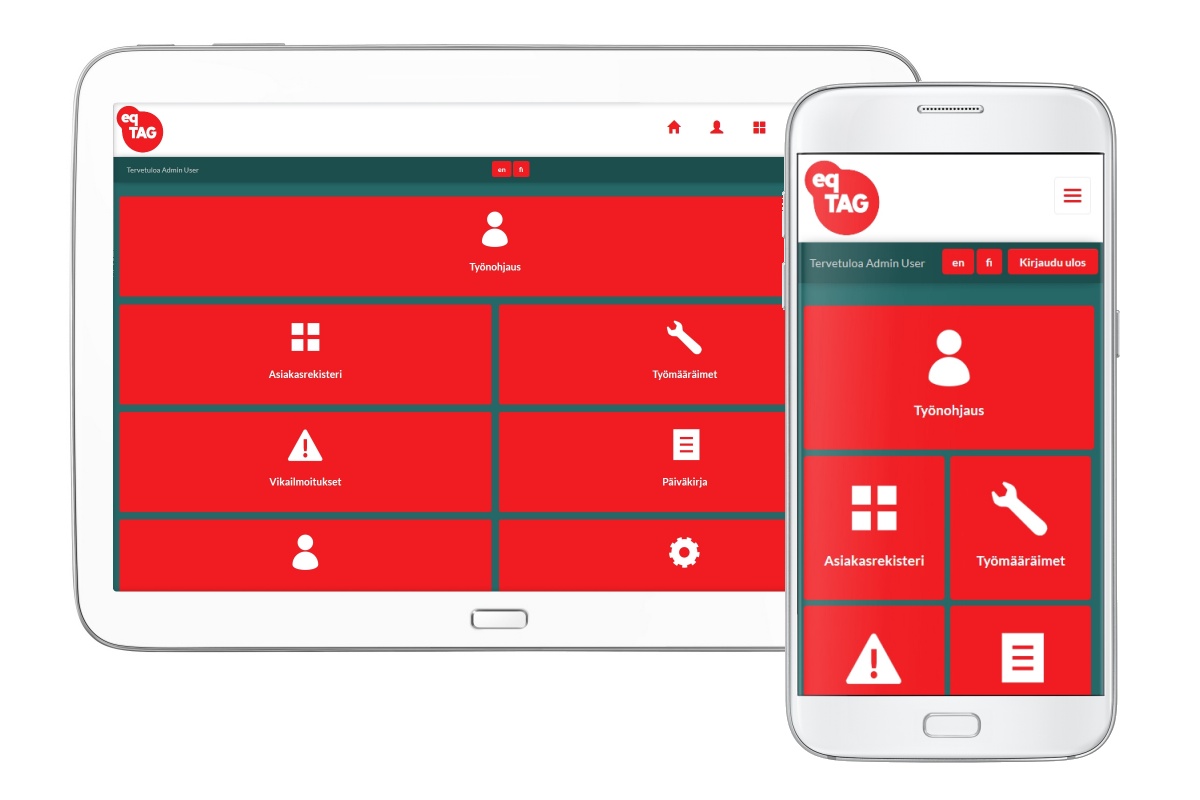 FIELD SERVICE MANAGEMENT MADE EASY
Based on real hands on experience, eqTAG Field service software is DEVELOPED BY SERVICE PERSONNEL. Whether its related to scheduling a site visit, reporting the work order or business planning, it's all about helping you to make things easier.
Field service software streamlines scheduling, management and the execution of work that occurs in the field. At the same time all the information about the service activities are gathered into customer register and equipment's life cycle history. With up-to-date information you have better visibility for the entire business.
With eqTAG you can improve your own and customer satisfaction and fully benefit your service capacity to accelerate your cash flow and better profitability. Innovative service in the cloud makes it available for everyone and requires zero maintenance from your organisation.
Available in: English, French, German, Danish, Swedish and Finnish.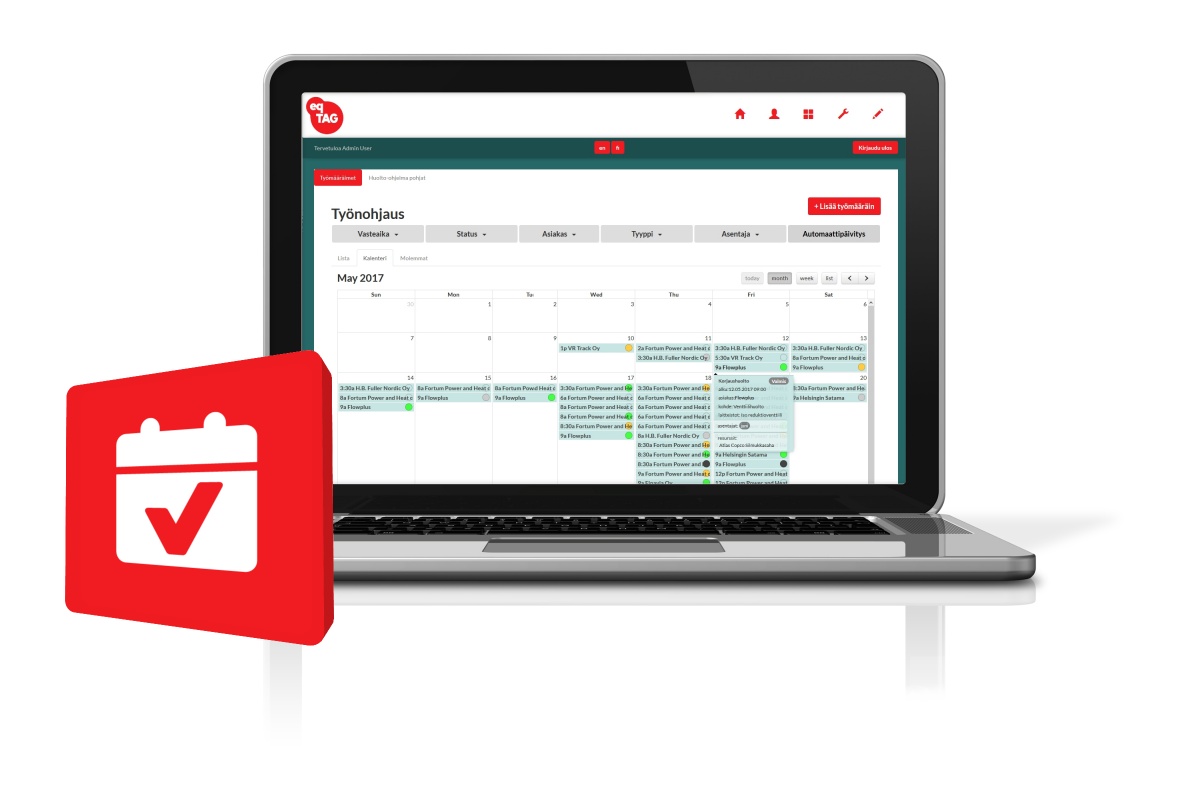 SCHEDULING WORK ORDERS & SERVICE MANAGEMENT
Create, schedule and assign service orders
Create and schedule maintenance tasks with an efficient step by step workflow. Manage scheduled work in one concise view. Your service personnel recieve the scheduled work orders in real time on their mobile devices. Rescheduling can be done by simplify dragging and dropping within a flexible calendar view.
Create and schedule work orders with a step by step workflow
Add photographs, attachments and ready made service programs
Assign any number of performers on each work order
Manage work orders flexibly through our calendar and list views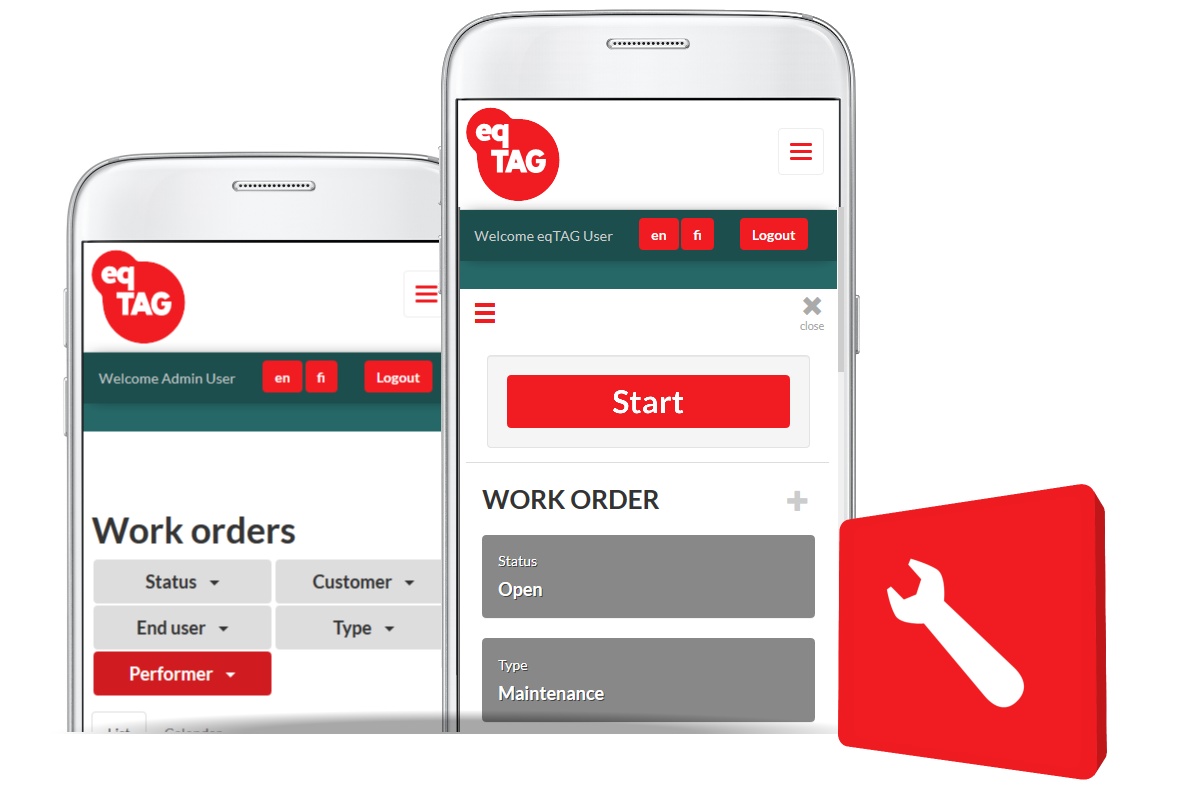 FIELD REPORTING
Service order reporting on mobile
Fill out reports for work orders as you work!
Just tap start on the work order. The work orders module guides the service technician intuitively in filling out a report for the work order. Just follow the steps to report working hours, used spare parts and a description for the service performed. Finally tap on Finish and you're done. The report is now ready and waiting to be attached to an invoice to be sent to the customer.
Calendar and list view of scheduled service orders for each use
All of the information about the work order and equipment available on the field.
Pictures and other documents as attachments
Report used spare parts, hours and a work description as you work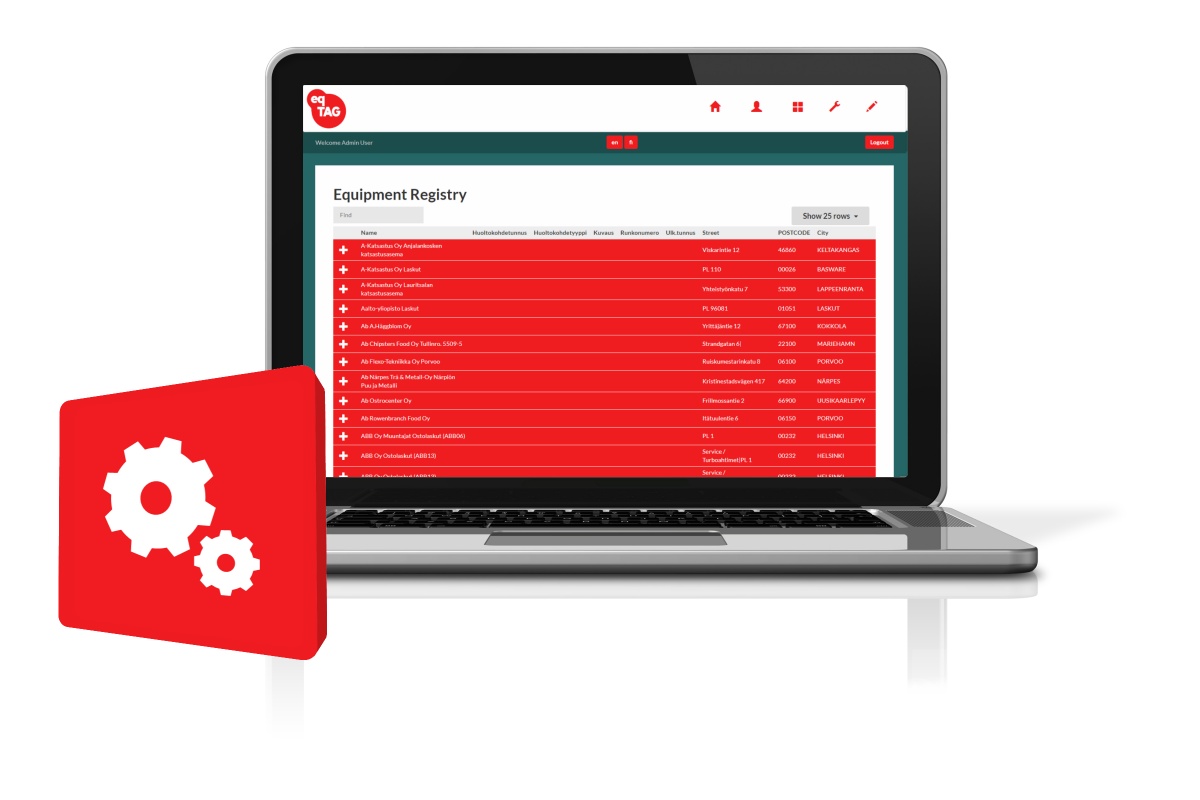 EQUIPMENT REGISTRY
Customer and Equipment registry
UP TO DATE Customer and equipment registry. Powerfull service lifecycle management made easy!
Complete customer registry
Complete equipment registry
Customers, sites and equipment are all linked in the registry and you get all the necessary information from all levels.
Add photographs and other technical documents to be accessed in the field.
Combine with the eqTAG intelligent product label to enable a quick and easy access to all the equipment data through NFC technology.
Note! Service management and work orders are linked with customer registry. You are always up to date on your service plan per customer and you can track your service history.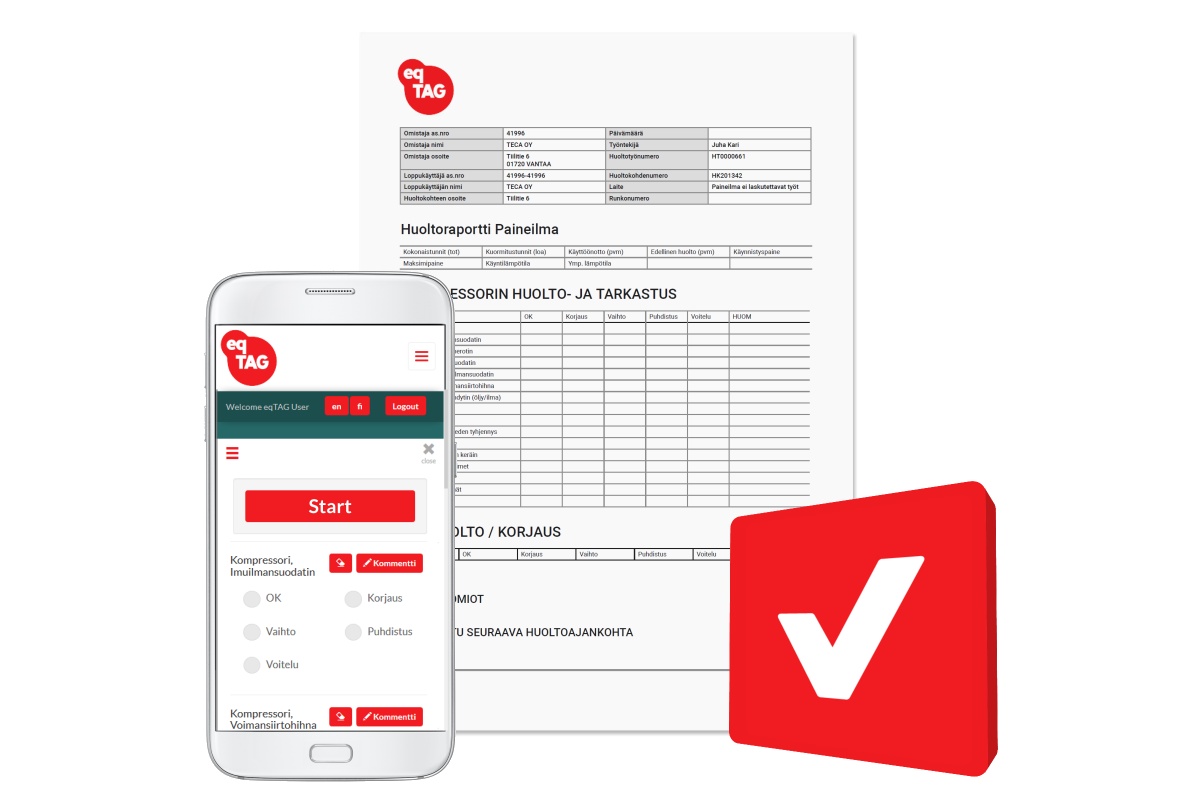 CUSTOMER REPORTS & INVOICING
Completed work order turns automatically into a invoice addendum.
Finalise the actuals for the customer report in the work order management before printing it and sending report to customer
Reported vs actual fields can be customized / localised according to your specific needs.
Work reports may be customised to include fields according to your requirements.
Items and hours with or without prices.
Define regularly used service programs to be added to work orders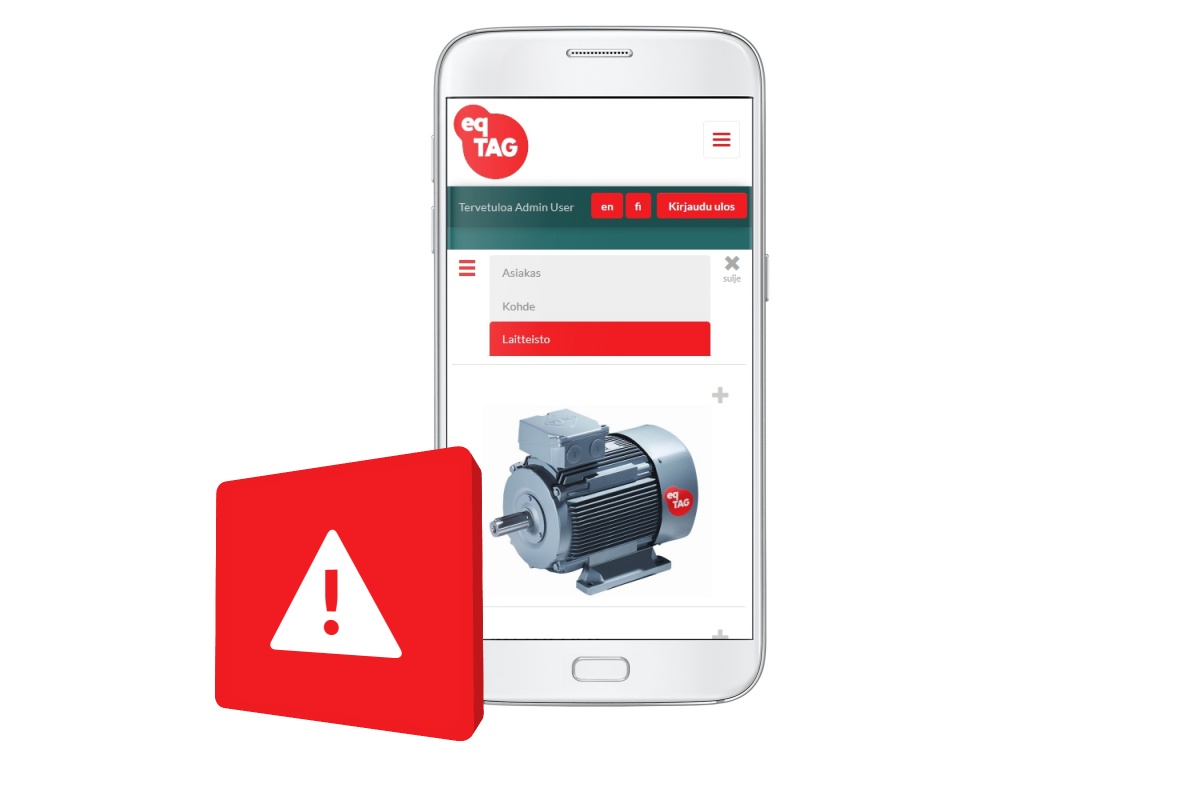 SERVICE CALL
Service Notifications & Alerts
Open and instant communication from the field to back office
Service Call feature is used to communicate any seen notifications in the field. Often it happens that while working in the field you recognise something, other fault or customer need, which should be reacted and given actions. While working it is not possible and therefore it is important to send a notification about that to the back office, who can take charge on further actions.
Notification is easy to fill out and submit.
Just open the equipment card on the register and fill your notice on it. Write an email adress to whom you want to send it on the email adress field and job is done.
Back office gets the information and takes charge on further actions.
Notifications are saved to equipments action history.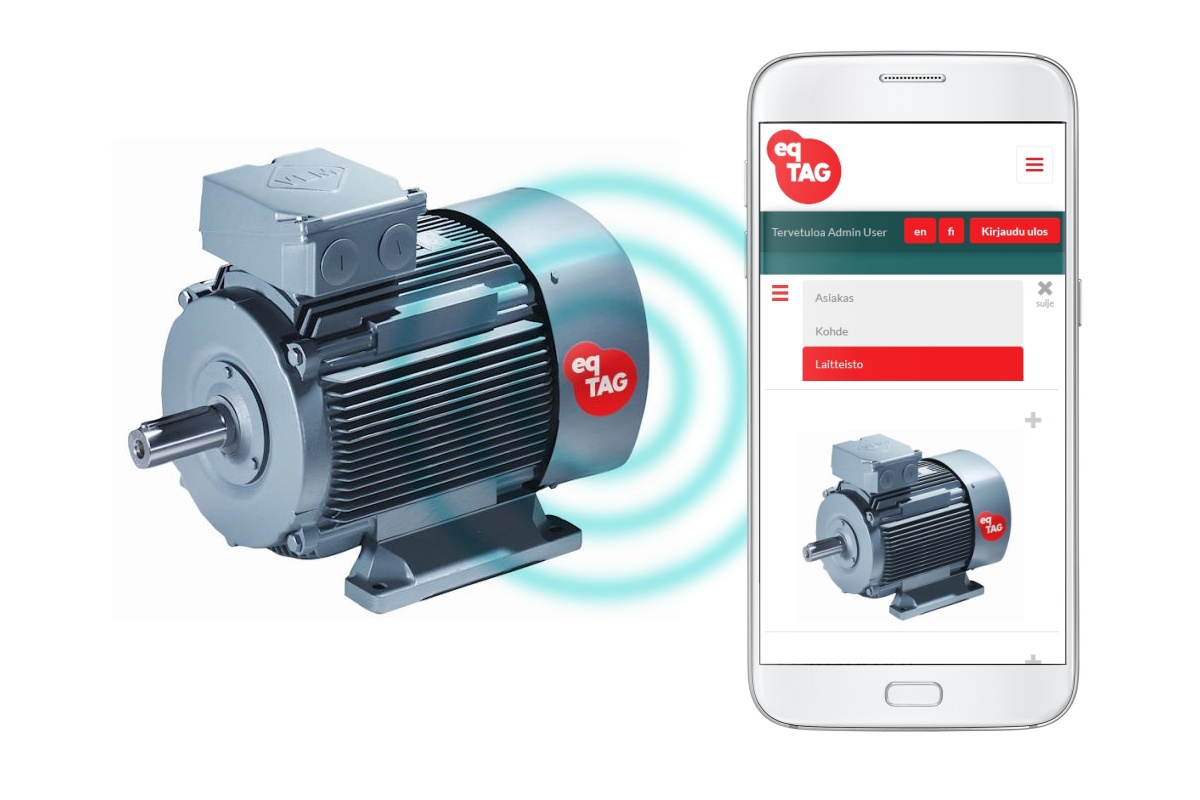 INTELLIGENT PRODUCT LABEL
Easy access to equipment information
Now up to date equipment information is available for everyone in the field.
Service target equipped with the physical eqTAG has all the information locally restored in the equipment. From the eqTAG, all up-to-date equipment documentation and lifecycle history can be locally accessed via your mobile device.
eqTAGs are physical NFC -tags which are first attached to the devices or equipment to be maintained.
Each eqTAG is linked to its own product card where the documents and the lifecycle history is restored.
When mobile phone is brought close to the eqTAG, opens a secure connection to all product information
NFC-tags can be attached to all kind of equipment's and they work in various and even harsh environment conditions.
Note! eqTAG Works on Web browser and no additional apps are required! eqTAG utilises NFC-technology which is standard feature in mobile devices.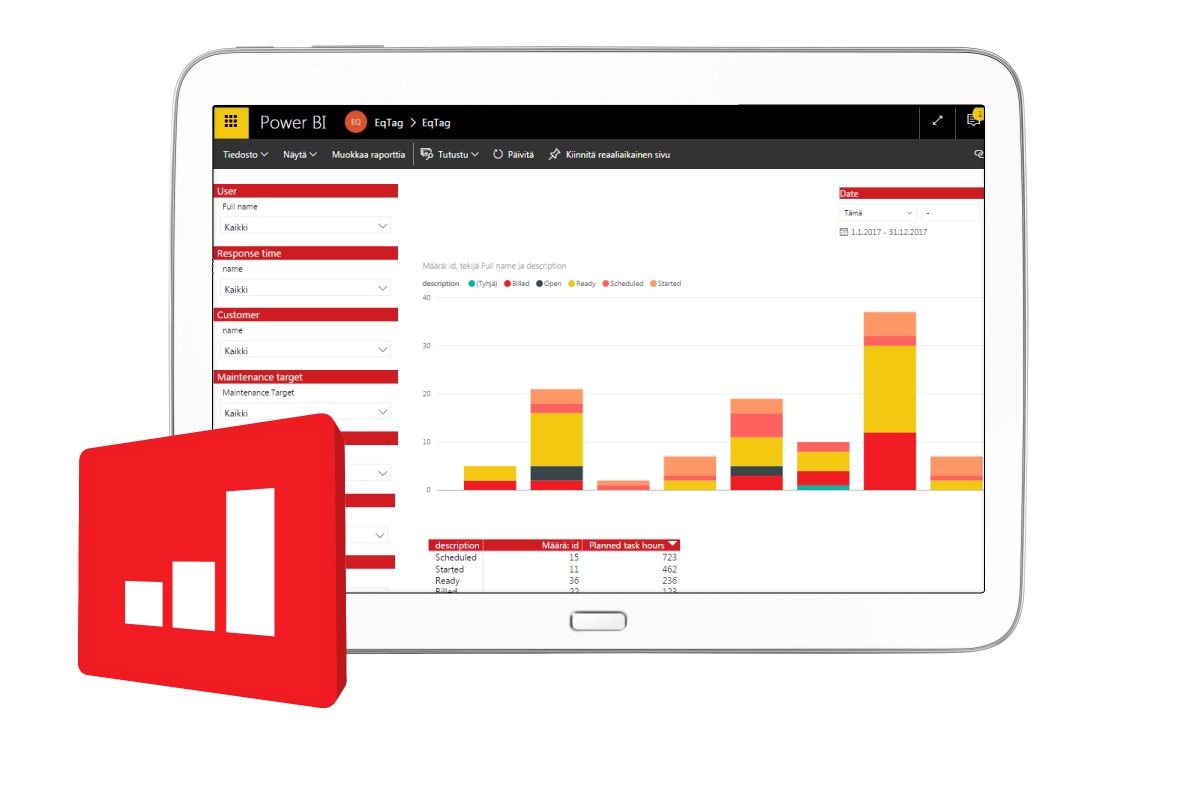 BUSINESS INTELLIGENCE
Follow up reports
Real-time service data and follow up reports for business planning and follow up. Customize of any kind and live business reports from your personal data. Strong tool for your facts based business development.
KPI's on one customized dashboard
Time analysis, Planned duration vs capacity, Customer hours, Hours per person, Utilisation rate, tasks and duration
Actuals vs planned reports.
Real-time and Dynamic filters – you can change reporting dates and values.
Scheduled report pages availabe for email share.
Follow up reports are done with Microsoft powerBI instance. PowerBI is integrated to eqTAG Maintenance Manager